Forces of Valor - Plastic Kits
ALL ITEMS IN STOCK AND AVAILABLE NOW
Ideal for war games & children age 14 & over.
Each kit contains parts, decals & detailed assembly instructions.
Each kit is made of PS & PVC and requires glue for assembly.
Glue and paint are not included.
Colours and decorations may vary.
These items are the first of a new range which will include other tanks, military vehicles and planes.
| | |
| --- | --- |
| | |
| Item FOV-873015A 1:72 scale | Item FOV-873016A 1:72 scale |
| Russian Heavy Tank KV1 - Western Front 1942 | US M4A1 Sherman - Belgium 1944 |
| | |
| --- | --- |
| | |
| Item FOV-873001A 1:72 scale Plastic Kit | Item FOV-873002A 1:72 scale Plastic Kit |
| German Tiger 1 - Tunisia Spring 1943 | German King Tiger - Henschel Turret - Ardennes December 1944 |
| | |
| --- | --- |
| | |
| Item FOV-873003A 1:72 scale Plastic Kit | Item FOV-873004A 1:72 scale Plastic Kit |
| Russian Heavy Tank KV2 - Ukraine Summer 1941 | US M4A1 Sherman - France August 1944 |
| | |
| --- | --- |
| | |
| Item FOV-873005A 1:72 scale Plastic Kit | Item FOV-873006A 1:72 scale Plastic Kit |
| US M1A2 Abrams - Iraq 2003 | US 2½ Ton Cargo Truck - Normandy June 1944 |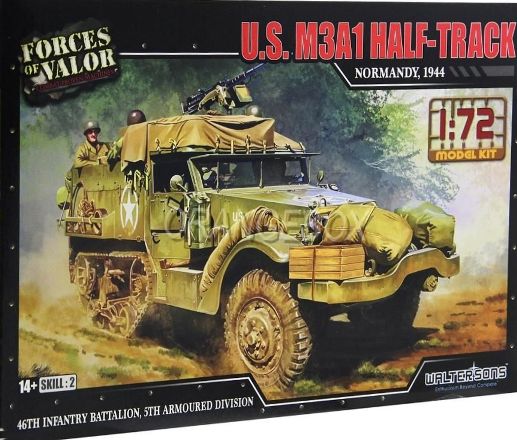 Item FOV-873007A 1:72 scale Plastic Kit
U.S. M3A1 Half-Track - Normandy 1944 - 46th Infantry Battalion, 5th Armoured Division
| | |
| --- | --- |
| | |
| Item FOV-873008A1:72 scale Plastic Kit | Item FOV-873009A 1:72 scale Plastic Kit |
| German Panzer 111 AUSF. N - Kursk 1943 | U.K. Spitfire MK IX - Britain Air Defence August 1942 |
| | |
| --- | --- |
| | |
| Item FOV-873011A 1:72 scale Plastic Kit | Item FOV-87012A 1:72 scale Plastic Kit |
| U.S. F4U-1D Corsair - Okinawa May 1945 | German FW 190D-9 - Sorau, Germany 1945 |
| | |
| --- | --- |
| | |
| Item FOV-87013A 1:72 scale Plastic Kit | Item FOV-87014A1:72 scale Plastic Kit |
| JGSDF Type 10 - Tunesia Spring 1943 | US M24 Chaffee - Rheinberg Germany March1945 |
| | |
| --- | --- |
| | |
| | |
| Item 87009-72 1:72 scale Plastic Kit Sold out | Item 87010-72 1:72 scale Plastic Kit Sold out |
| German King Tiger - Ardennes December 1944 | German Tiger 1 - Tunesia Spring 1943 |
| | |
| --- | --- |
| | |
| | |
| Item 87011-72 1:72 scale Plastic Kit Sold out | Item 87013-72 1:72 scale Plastic Kit Sold out |
| German Panzer 111 AUSF. N - Norway May 1945 | U.S. M4A1 Sherman - France August 1944 |
| | |
| --- | --- |
| | |
| | |
| Item 87005-72 1:72 scale Plastic Kit | Item 87006-72 1:72 scale Plastic Kit |
| U.S. P-51D Mustang - Great Britain 1945 | U.S. F4U-1D Corsair® - Okinawa May 1945 |
| | |
| --- | --- |
| | |
| | |
| Item 87007-72 1:72 scale Plastic Kit Sold out | Item 87008-72 1:72 scale Plastic Kit |
| U.K. Spitfire MK IX - Britain Air Defence 1942 - No 64 Squadron | German FW 190D-9 - Sorau, Germany 1945 |
| | |
| --- | --- |
| | |
| | |
| Item 87012-72 1:72 scale Plastic Kit | Item 87014-72 1:72 scale Plastic Kit |
| U.S. M3A1 Half-Track - Normandy 1944 - 46th Infantry Battalion, 5th Armoured Division | U.S. 2½ Ton Cargo Truck - Normandy June 1944 - 1st Infantry Division |
| | |
| --- | --- |
| | |
| | |
| Item 87015-72 1:72 scale Plastic Kit Sold out | Item 87016-72 1:72 scale Plastic Kit |
| U.S. M1A12 Abrams - Iraq 2003 - 4th Infantry Division | Russian Heavy Tank KV-2 - Ukraine Summer 1941 |